Souje is a personal WordPress blog theme. Fashion lovers, travelers, handmade item creators, trend followers and the ones who interest in any other kind of blogging can use it! Memorable and deterministic design makes the difference. Souje has been created in order to catch this principle.
Souje's concept shows itself in every detail of the theme. It has a modern stance with pink and lilac colors. A dynamic WordPress blog theme that focused on personal usage. That describes Souje well. In addition to this, we can speak about a sportive view via the thin lines that have been used to complete the design.
A nice shop section has been designed in this WooCommerce compatible theme. The products presented on the demo site go along well with the general concept. That's why you'll like it more!
If we have a look at the other features of the theme, we see more than 10 custom widgets and 7 different blog layouts with the combination of column options and the sidebar. For a stronger impact, it would be a good choice to prefer a layout without sidebar. If you want to hide the sidebar on post pages only, it's also possible. In fact, this feature is post based. Which means you have the luxury to show or hide the sidebar for each single post. As an additional functionality, there's a setting on the customizer for hiding specific posts or categories on blog homepage. Long story short, Souje provides the freedom of making decisions to the site owner.
Souje Theme Features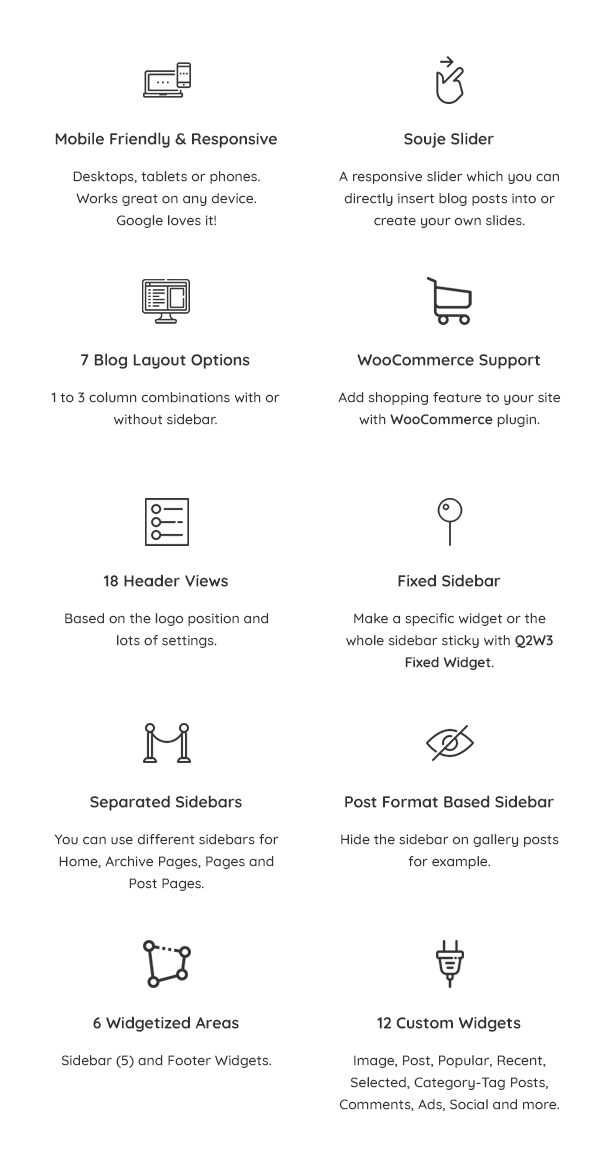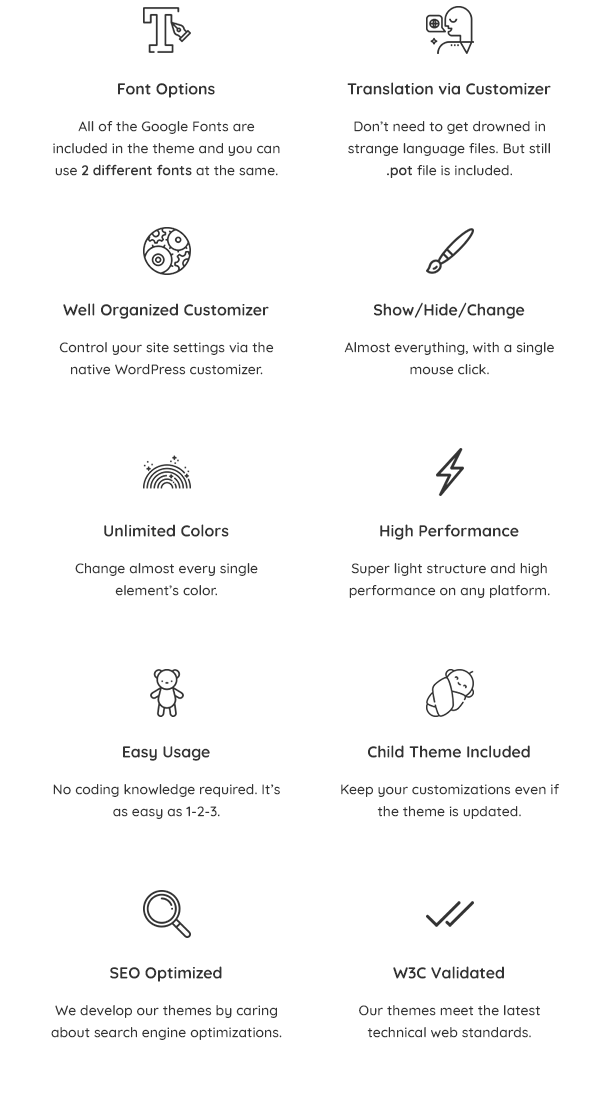 Need Support?
Please don't hesitate to ask anything. We're ready to help you on our comments page!
Release Notes
*** v.4.1 ***
+ Minor fixes & style improvements.

*** v.4.0.2 ***
+ New Google fonts added.
+ Instagram widget label fix.
+ Performance improvements.

*** v.4.0 ***
+ Stability and performance improvements.
+ Minor fixes.

*** v.3.1 ***
+ Various arrangements for meeting latest WordPress standards.

IMPORTANT: This update includes a components plugin. Ensure that you've installed and activated it. If your widgets disappear, find them in the "Inactive Widgets" pane and re-add them into the sidebar(s) of the theme.

*** v.3.0 ***
+ Gutenberg support.

*** v.1.7 ***
+ Help file updated.
+ Now you can upload a different logo for mobile view.

*** v.1.6 ***
+ Translation string added for "Log in to Reply".
+ Visual improvements for the comment form while login is needed to reply a comment.

*** v.1.5 ***
+ An option added for the mobile menu parent item click actions.

Have You Seen Krunk?